Madeleine Parent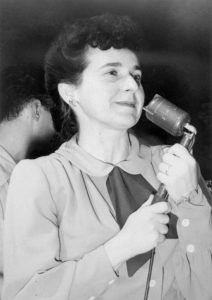 Born June 23, 1918 into a middle class family in Montreal, Madeleine attended primary and senior Catholic boarding schools where she witnessed the class divisions and hierarchy between the sisters who taught and the girls who prepared meals and performed housekeeping duties. In this context, she first became conscious and aware of social injustice. While attending McGill University (where she graduated with a B.A. in 1940) she became more active and took part in her first collective action through the militant Canadian Students Assembly. In 1942, Madeleine landed a full-time job with the organizing committee of the American Federation of Labor in Quebec and shortly thereafter joined the organizing committee of the Montreal Trades and Labour Council. With wages having been frozen at their 1929 levels, booming wartime production and a general labour shortage in 1943 lead to roughly 1 in 3 workers being on strike at various points in a fight to secure higher wages and better working conditions.
Working as an organizer for the United Textile Workers of America, Kent Rowley invited Madeleine in January 1943 to help recruit women workers at the Dominion Textile cotton mill in Valleyfield, Quebec. In 1946, seeking wage increases, overtime compensation, a 40 hour work week, and union recognition, over 3000 Montreal cotton mill workers in Valleyfield and 3000 workers from four of Dominion Textile's mills in Montreal walked off the job. Madeleine played a prominent role throughout the strike as a union leader, negotiator, and activist encouraging women to participate in the strike. In Montreal, the company refused to negotiate with Kent, Madeleine, and the local organizers and a settlement featuring hard fought gains was reached within two months with U.T.W.A. secretary Lloyd Klenert (an American) as signatory. In Valleyfield, the 100 day strike was fraught with red-baiting, threats and intimidation tactics, strike breaking, violence, tear gas, machine guns, arrests, and harassment of picketers and supporters by the police.
Principled, fiery, articulate, and driven to organize the unorganized and motivate and defend the working class, Madeleine's unwavering and stubborn commitment often found her at odds with the clergy, the police, U.S.-based tuxedo unionists, government, and Maurice Duplessis. In 1947, as a result of the Ayers mill strike in Lachute, Madeleine was branded a communist, arrested, and charged with seditious conspiracy and sentenced to two years in prison. The case was appealed and dragged out by Duplessis (who was accused of condoning police brutality during the strike) and Madeleine was eventually acquitted on a technicality in 1955. Already at odds with the top brass of the U.T.W.A. over a lack of democracy, corruption, and selling out Canadian workers and siding with big business interests, another strike in Valleyfield in 1952 resulted in expulsion from the U.T.W.A. as part of a broader attempt by U.S.-based international unions to wrest control of Canadian locals and finances from Canadian workers.
Undeterred and more committed than ever to defend and fight for the rights of Canadian workers, Madeleine and Kent started the Canadian Textile Council (later the Canadian Textile and Chemical Union). Kindred spirits united in class struggle, Madeleine and Kent married in 1953 resulting in a formidable, loving, and supportive partnership that would last until Kent's passing in 1978. While Madeleine stayed in Quebec until joining him in 1967, Kent focused on organizing in Ontario which resulted in the founding local at Harding Carpets in Brantford after decertification from the U.T.W.A. by a vote of 185 to 9. With no other certifications and the limited funds coming in devoted to organizing and other union activities, both Madeleine and Kent lived on personal savings for the next two years.
Within a context of Cold War anti-communist hysteria and invoking the wrath of the international unions and the Canadian Labour Congress, Madeleine and Kent gradually grew the membership of the CTC / CTCU. Commitment to the Canadian working class and a desire to 'reject the domination of company collaborators and American racketeers in the Canadian trade union movement' eventually resulted in the 1969 formation of the Canadian Council of Unions (later the Confederation of Canadian Unions). With the rise of the New Left movement, the 'Ban the Bomb' movement, and the women's liberation movement, the 1970s provided fertile ground for political activism and class struggle.
In 1972, Madeleine was a founding member of the National Action Committee on The Status of Women (NAC) where she played a key role and sat on the executive committee over several different periods. Through the NAC, she fought for equal pay for work of equal value, abortion rights, maternity leave, day care, pensions, and for the rights of aboriginal women. This period also saw some of the most volatile and galvanizing strikes in the history of the province of Ontario with Texpack in 1971, Artistic Woodwork in 1973, and Puretex Knitting in 1978. In all, Madeleine played a key role as activist, organizer, and mentor to a new generation of social justice activists. These strikes also shone a light on the right to picket, state repression, police brutality, the rights of immigrant women, and the limits of workplace video camera surveillance of workers.
In 1982, Madeleine supported the campaign to organize Cape Breton miners marking another important stage in the development of Canadian-based unions. In 1983, after over four decades of dedicated activism, Madeleine retired from union work and returned to Quebec. After retirement, she continued her social-activism role until she was able, sadly passing in 2012. It is incredibly difficult to adequately convey the depth and breadth of activism and achievement of such a courageous, driven, principled, and compassionate woman within the short confines of this brief retrospective. Madeleine's social justice activism has been recognized through many honorary degrees from Canadian universities including Carleton University, University of Windsor, Université Athabasca, Laurentian University, and her alma mater, McGill University. Through her tireless efforts and pursuit of social justice, Madeleine has left an indelible imprint on the Canadian labour movement and beyond and the Canadian labour movement owes her a very big debt of gratitude.